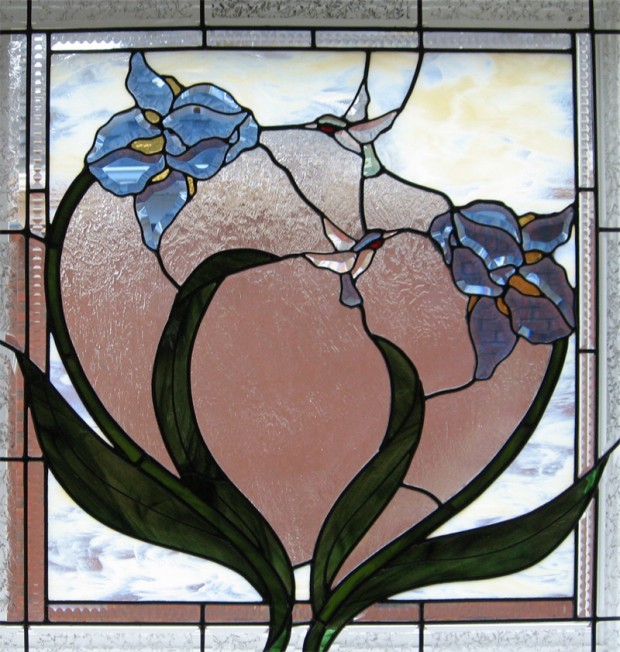 We are Art Glass with Finesse:
Art Glass with Finesse, Inc. is a full service decorative art glass studio. Jim Steinbock and Lisa Hillerich, as the co-owners and founders, take great pleasure and pride in following each project through from the start to finish. This includes meeting with you to collect your thoughts on the design; then, designing to scale and getting your approval to fabricate; we take the design through the fabricating phase in our studio shop; once completed, we will be responsible for installing and providing the materials to give a finished appearance.
We are trained in all facets of glasswork, which includes, but is not limited to: Leaded, Stained, Sand-etched, Mosaic, Molded, and Fused.
Our passion is creating works of art for Churches, Individuals, and Public or Corporate areas. We put our hearts, our minds, and our hands into every project!
We take pride in our capabilities to design and fabricate custom windows, tailored to the needs of our clients. Centrally located in Louisville, Ky., our studio is easily accessible for its clients. The sales office is open from 8:30am-5:00pm EASTERN STANDARD TIME, Monday-Friday. All inquiries or orders are welcome by mail or fax. Please call us at: (502) 969-2322, office/fax; or email us at: wfinesse@aol.com
Click here to visit our Café Press online store. Our original designs are available as reproductions on shirts, mugs, and more.
We look forward to your future business, and a lasting relationship. Thank You !